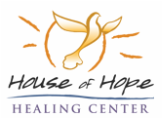 House of Hope Healing Center is an interdenominational ministry established in June, 2010 which partners with Father God, Jesus and the Holy Spirit to minister healing and freedom for emotional, spiritual and physical needs. We serve Bay Area residents, churches and communities. We believe God heals today – heart, spirit, soul and body – and that all afflictions were paid for in full by Jesus and His finished work on the Cross. Isaiah 53:5 "But He was wounded for our transgressions, He was bruised for our iniquities; the chastisement for our peace was upon Him, and by His stripes we are healed." Jesus' atonement covers not only our own transgressions and iniquities, but those of others that caused us harm. Psalm 34:19 says, "Many are the afflictions of the righteous, but the Lord delivers him out of them all." The word "afflictions" in Hebrew can mean adversities, disasters, pain, sorrow, trouble or wicked deeds carried out against us. The good news, however, is that Jesus' mission is to heal our broken hearts, remove the pain and trauma, fill us with His very Presence, and release us to soar in our purposes and destinies. We welcome you to schedule a 2-3 hour session with House of Hope, where we have created a safe environment of love, honor and gentleness for you.
---
*** Please note that if you are requesting a follow up appointment (this is not your first appointment with House of Hope) that we are now requiring that you attend/view two Freedom Quest sessions during your wait time. Live session is on hiatus after 8/23/15.

The sessions will help you learn about healing and provide you with some helpful tools. If you are viewing the sessions online, you are required to fill out one questionnaire per session viewed and submit that before the appointment can be scheduled for you.
---
Testimonies

"My HeartSync session helped me find my way back to myself and I was validated and encouraged in who God made me to be. My Immanuel moment is a new memory and a powerful anchor. The flow of the Spirit and how God made all of us was so beautifully woven together in a brilliant loving oneness; where my pain could come to the surface and be cared for. I felt I was truly seen and validated in how God made me."

"The prayer team created a safe and embracing environment for me to share my pain and joy. I released pain I did not know I had. I was able to release it when I felt God's love, care and affirmation. The prayer team was there to catch me. I saw them as Jesus with skin on."

"I felt God hand-picked my prayer team. For me it was a taste of heaven and it taste of freedom; free to be me. Free to love God more fully and free to love others."

"I loved that the facilitators were helping aid ME in hearing from God for myself. It was so helpful that a team member took notes. After my HeartSync session I have re-read my notes several times, which has greatly helped me to internalize all that God has done."

"This ministry is a priceless gift to the body of Christ. I am so blessed to have been given so much love, honor and acceptance by the team and the Lord through my HeartSync. I have gone through some very deep traumatic events that caused me to experience deep emotional wounds and many broken areas in my life. HeartSync has been the only safe and healing ministry that has allowed me to feel safe enough to let my wounded emotional parts come out and be ministered to. It has also brought tremendous breakthrough and understanding of who I am as a person and helped me to truly establish my real identity."



​It is our deepest desire to run this ministry in alignment with Jesus's teaching, "Freely you have received; freely give," with no imposed cost to the recipient. We cannot do it without your help to cover administrative and maintenance costs. Will you prayerfully consider supporting our ministry?



UP COMING EVENTS:

*** NorCal HeartSync Training Conference July 23-27, 2018 ***
Featuring Father Andrew Miller in Byron, CA [Hosted by Bill Irwin with Oak Tree Ministries]
Registration is OPEN - Click here to register.

*** The Gathering Sunday (2nd Sunday of the month) ***
From 6-8:30pm at 3421 Monroe St Building F, Santa Clara.
~IN HONOR OF MOTHER'S DAY THERE WILL BE NO MAY GATHERING~
Next Gathering on June 10th, 2018 featuring [TBA].

*** Freedom Quest - No meetings are scheduled at this time but videos of past sessions are available for viewing under the Freedom Quest tab above.
---
---