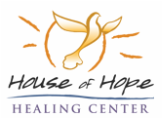 House of Hope Healing Center is an interdenominational ministry established in June, 2010 which partners with Father God, Jesus and the Holy Spirit to minister healing and freedom for emotional, spiritual and physical needs. We serve Bay Area residents, churches and communities. We believe God heals today – heart, spirit, soul and body – and that all afflictions were paid for in full by Jesus and His finished work on the Cross. Isaiah 53:5 "But He was wounded for our transgressions, He was bruised for our iniquities; the chastisement for our peace was upon Him, and by His stripes we are healed." Jesus' atonement covers not only our own transgressions and iniquities, but those of others that caused us harm. Psalm 34:19 says, "Many are the afflictions of the righteous, but the Lord delivers him out of them all." The word "afflictions" in Hebrew can mean adversities, disasters, pain, sorrow, trouble or wicked deeds carried out against us. The good news, however, is that Jesus' mission is to heal our broken hearts, remove the pain and trauma, fill us with His very Presence, and release us to soar in our purposes and destinies. We welcome you to schedule a 2-3 hour session with House of Hope, where we have created a safe environment of love, honor and gentleness for you.
---
*** Please note that if you are requesting a follow up appointment (this is not your first appointment with House of Hope) that we are now requiring that you attend/view two Freedom Quest sessions during your wait time. Live session is on hiatus after 8/23/15.

The sessions will help you learn about healing and provide you with some helpful tools. If you are viewing the sessions online, you are required to fill out one questionnaire per session viewed and submit that before the appointment can be scheduled for you.
---
Testimonies

"I had a medical concern as my presenting issue. The Holy spirit led us to generational issues with masonic involvement. Fear and death were broken of my generations along with premature physical death. The pain I was experiencing in my body was gone by the end of the session. When I had my medical tests later the next week, everything was clear...Since my session, I find that I am laughing more and have a joy I have never known. I have a new expectation of good things happening each day."

"After I went through Sozo, it seemed as though several key relationships became closer. I was no longer interpreting conversations through the lens of someone who had been deeply hurt. A barrier was removed. "

"In the sozo experience, the Lord gave me many vision & pictures that reassured me that I would not be overwhelmed. I now have these precious words and pictures to call to mind whenever I start to worry. My faith is greatly strengthened! I have also resumed my daily morning prayer walks (being careful to stay away from tall grass where ticks hang out) and have a new vibrancy in my walk with Jesus and joy in my days. Thank you for being the catalysts!!"



It is our deepest desire to run this ministry in alignment with Jesus's teaching, "Freely you have received; freely give," with no imposed cost to the recipient. We cannot do it without your help to cover administrative and maintenance costs. Will you prayerfully consider supporting our ministry?



UP COMING EVENTS:

*** The Gathering Sunday (2nd Sunday of the month) ***
From 6-8:30pm at 3421 Monroe St Building F, Santa Clara.
Next Gathering on January 14th, 2017 featuring Mark Paulson.

*** Freedom Quest - No meetings are scheduled at this time but videos of past sessions are available for viewing under the Freedom Quest tab above.
---
---